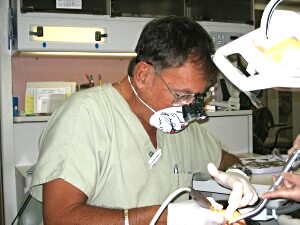 Dr. William F. Plack
Dr. Bill Plack was born in Baltimore, Maryland in 1946. He attended and graduated from Mc Donogh School, McDonogh, Maryland, in 1964. He graduated from the University of Delaware in 1968 and from West Virginia University School of Dentistry in 1972. He was commissioned a captain in the United States Army Dental Corps in 1972, completing a rotating internship at Fort Jackson, South Carolina in 1973 and an Advanced Education in General Dentistry Program (Two Years) at Madigan Army Medical Center, Fort Lewis, Washington, in 1980. Dr. Plack achieved Diplomate status with the Federal Services Board of General Dentistry in 1984.Promoted to full colonel (06) in 1986, his last two assignments were Commander, United States Army Dental Activity, Fort Lee, Virginia and Director, Advanced Education in General Dentistry Program (Two Years) at Fort Bragg, North Carolina.
He retired as a full colonel in 1992. Numerous military awards include the Legion of Merit (1 Oak Leaf Cluster), Expert Field Medical Badge, Order of Military Merit, and the Surgeon General's "A" Professional Designator, the military equivalent of a full professorship in academia.
Dr. Plack has published numerous articles in various dental journals and has lectured extensively to local, state, national and international dental societies. He is a Diplomate of the Federal Services Board of General Dentistry and a Fellow in the International College of Dentists. Additionally, he is a Master of the Academy of General Dentistry.
After leaving the Army in 1992, he practiced general or family dentistry in Salisbury until 1996 when Snow Hill Dental Associates was opened. He is a member in good standing of the Eastern Shore Dental Society, the Maryland State Dental Association, the American Dental Association and the Academy of General Dentistry. He and his wife, Christine Corddry Plack have three children and live in Ocean Pines, Maryland.
Mastership Award
Dr. Plack received the Academy of General Dentistry's prestigious Mastership award during the convocation ceremony at the Academy's 45th annual meeting, August 2, 1990, in Chicago, Illinois. The Academy of General Dentistry is an international organization of +40,000 general dentists committed to continuing dental education in order to provide the best possible care to their patients. To earn the Mastership award, academy dentists must first acquire academy Fellowship status by passing a comprehensive examination and 500 hours of continuing dental education. Masters must then complete 600 additional hours, 400 of which must be fulfilled through participatory or "hands-on" courses in all 16 dental disciplines.